Using the Martinic AX73 80s Analog Synth review and a perfect guide for Music Producers. "Martinic AX73 is best 80s synth VST for Creating Retro Music in 2023"
Martinic AX73 80s Analog Synth Review
Are you tired of the same digital sound? Do you miss the warmth and character of analog synth? Look no further. In this comprehensive guide, we will take you through the process of reviving the glory of 80s analog synth. From choosing the right equipment to mixing and mastering, this guide has got you covered.
Martinic AX73 80s Analog Synth Review
Martinic is a developer who is known for his exceptional ability to revive and modernize old, vintage sounds in his digital plugins. His plugins are designed to provide an experience that closely emulates the original sound within a digital audio workstation (DAW), while also enhancing the user experience in ways that make sense for modern music producers.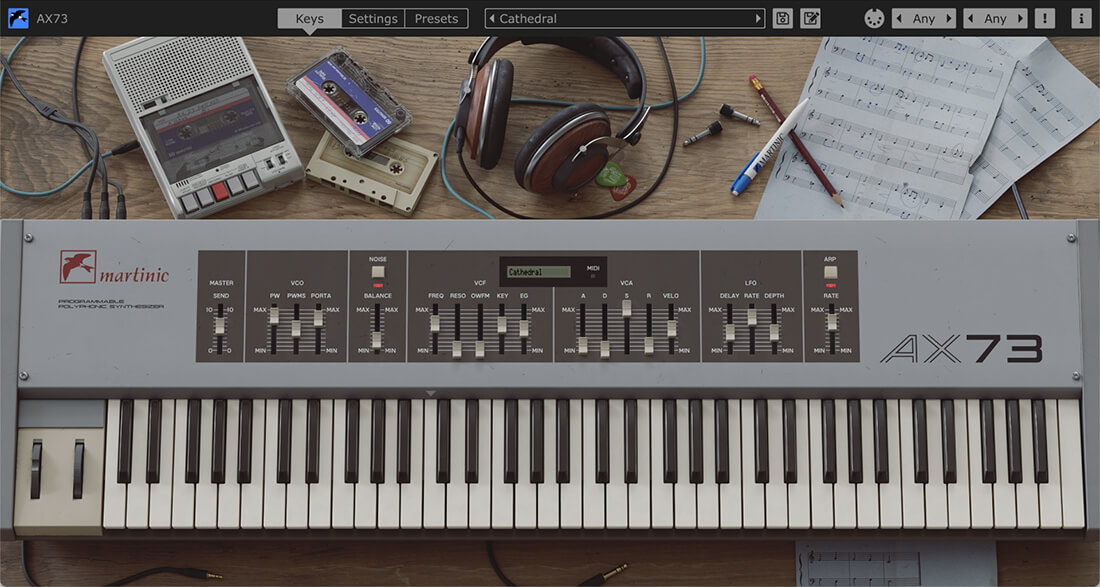 What makes Martinic's work stand out is his genuine passion for the craft and the impressive skill he brings to the table. His plugins are not created for fame or fortune, but rather out of a desire to explore his curiosity and push the boundaries of what's possible. As a result, the prices for his plugins are quite modest.
Martinic has successfully enhanced the original AX73 synth by transforming it into a versatile software instrument that caters to the needs of modern music producers. The new version retains all the great features of the original but also offers more power, flexibility, and ease-of-use. As a result, it has become a go-to choice for many producers who are looking for a reliable and high-quality synth for their music projects.
Identifying the origins – Guide for Music Producers
Martinic has recently released AX73, an emulation of an AKAI synthesizer from 1986. The AX73 was a unique analog synth that was developed by the Japanese tech giant during the era when digital synths like the DX7 dominated the market. Although the synth didn't achieve much success at the time, it has since been recognized as an innovative and forward-thinking machine.
The AX73 had a hybrid design that combined analog circuitry, some digital components, and the Curtis CEM 3394 chip, which gave it its distinctive sound. The synth was capable of producing both analog and digital sounds, though it wasn't exceptional at either. However, Martinic's meticulous upgrades and the user-friendly interface have unlocked the full potential of the AX73, making it a powerful and versatile instrument.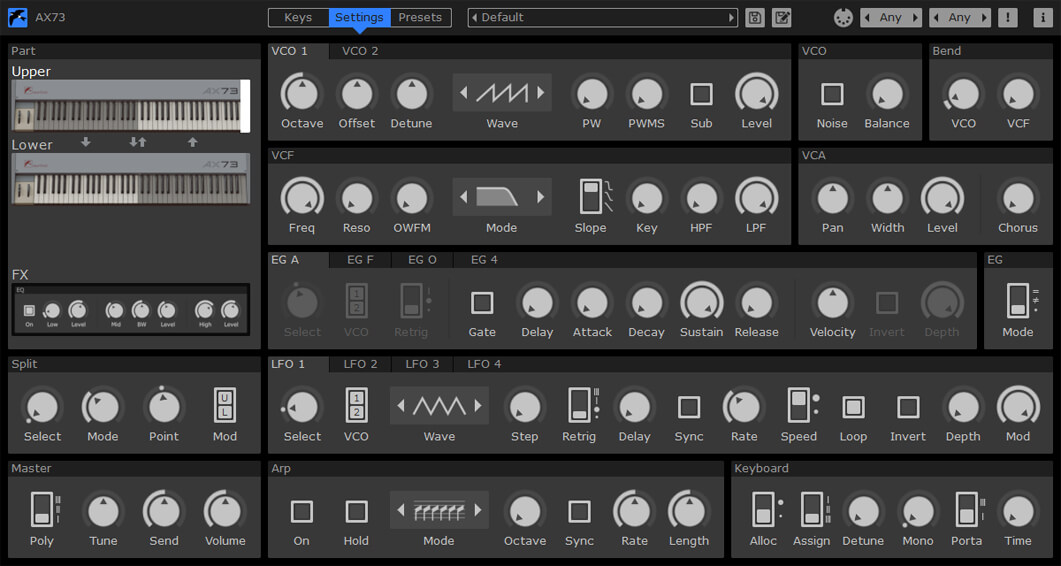 While the AX73 may have been underrated in its time, Martinic's faithful emulation has given producers the opportunity to discover and appreciate the unique qualities of this rare synthesizer. With its straightforward interface and programming possibilities, the AX73 is a true workhorse that is now available for all to experience.
Virtual Synthesizer: Martinic AX73 Review
The AX73 is a virtual synthesizer that has been designed to look and feel like a modern software instrument. If you're familiar with Arturia's V-Collection 8, you'll notice that the AX73 fits right in, which is a testament to the quality of the emulation.
The AX73's interface is divided into three separate views. The Keys view displays an overhead view of the synthesizer, complete with interactive keys and faders. Although the faders and their labels may appear slightly small on a 13-inch MacBook Pro, they are still usable.
The real synth action happens in the Settings view, which provides a clear and intuitive representation of the AX73's architecture. This is the first time that the 1986 AKAI keyboard has been presented in a way that is immediately comprehensible to users, making it much easier to program and customize sounds.
Although the AX73's interface is impressive overall, there are some issues with the color scheme that may make it slightly harder to use. The majority of elements are the same color, a muted white, on a dark gray background.
This lack of color contrast can make it difficult to distinguish between different controls, which is a problem given the large number of parameters available.
In my opinion, a bolder approach to color and typography could have helped to improve the overall user experience. However, it's worth noting that I am not a UX designer, so my observations should be taken with a grain of salt.
Observe the parameters – Martinic AX73 Review
The plugin's Settings page has two sets of controls for each half of the virtual keyboard, allowing you to play two AX73s at the same time in split or layer modes. The effects line-up has its own set of controls. The oscillator section has two signal generators (VCO 1 and 2), each with pulse width controls and a sub oscillator. You can also add noise from the VCO section.
The plugin's filter section offers three filter slopes and different modes. The OWFM control modulates the filter frequency from the triangle VCO output. The VCA has controls for Pan, Width, Level, and Chorus. The 4 ADSR envelopes and 4 LFOs have their own set of controls for modulating various parameters such as oscillator pitch, filter frequency, resonance, and output level.
The LFOs can reach the same destinations and have loop and invert switches. The plugin also features an Arpeggiator, a Master section, and a Keyboard section with voice assignment options and Portamento and Monophonic modes. The controls are deep but not overly complex.
Plenty of Effects and Presets – Best 80s Synth VST in 2023
The AX73 plugin offers 8 high-quality effects that each have their own dedicated view, including compressor, chorus, flanger, phaser, delay, reverb, EQ, and distortion. You can use all 8 simultaneously and chain them in any order to create powerful soundscapes.
Additionally, the Presets view offers over 600 professionally-designed sounds to choose from, with easy browsing through tagging, collections, and searching. Among the sound designers is the one who programmed sounds for the legendary Blade Runner soundtrack, so there's a lot to explore!
What is the Sound of the AX73?
The AX73 offers a versatile sound that covers a wide range of musical styles, from vintage to modern. Martinic has done an excellent job of recreating the original synthesizer, and it shows in the quality of the sound.
The AX73 offers something for everyone, from synth enthusiasts to nostalgia buffs and modern producers. Despite being a vintage synth, the AX73's versatility is impressive and makes it an excellent value for the price.
More Information About Martinic AX73 80s Analog Synth
The Martinic AX73 is a software synthesizer based loosely on the Akai AX73 synthesizer. Martinic is a company that creates plug-ins for their own brand and for other manufacturers, and they have a reputation for concentrating on unusual instruments and effects.
The original Akai AX73 was designed using the CEM3394 'synth on a chip' and offered six voices that could be played as a single six-voice patch, as a three-note, dual-voice but monotimbral layer, or as a six-oscillator unison monosynth. It featured a resonant 24dB/oct low-pass filter, a simple 6dB/oct high-pass filter, and a dual-mode chorus.
The Martinic AX73, however, offers many more features and capabilities than the original instrument. It includes two synthesizers or "Parts," each with waveshaping of all five waveforms, a square-wave sub-oscillator, and an 11-mode, MIDI-syncable, three-octave arpeggiator. It also has four invertible HASDR contour generators, four LFOs, and a host of new features, including nine LFO destinations, a programmable sample & hold mode, various triggering modes, a one-shot contour mode, and both mono and poly modes.
The AX73's signal path also includes a VCF with three modes (LP/BP/HP) and three cutoff slopes, an additional 6dB/oct LPF, and a series of eight effects units that can be patched in any order and any combination of which can be active at any moment. The synthesizer also has new keyboard modes and much more. Overall, the Martinic AX73 is a highly capable and versatile software synthesizer that offers a unique sound and a wide range of features for electronic music production.
Conclusions Of Martinic AX73 80s Analog Synth Review:
Although the Akai AX73 was meant to be an alternative to Roland Juno series, it did not receive much attention. So, while Martinic named their virtual synthesizer after the Akai, it's not necessarily a fitting association. The AX73 soft synth is inspired by the Akai but offers more features and capabilities than the original hardware.
However, what really matters is the sound that it produces, and in that regard, the AX73 excels. It has a unique character that distinguishes it from mainstream soft synths, making it worth downloading and trying out the trial version. If you enjoy its sound, you might be compelled to purchase the full version given its reasonable price.
Martinic AX73 Rating
$ 72
Sound quality

Ease of use

Interface

Presets

Value for money

1986 vibes
Martinic AX73 80s Analog Synth Summary
Martinic AX73 is an exceptional digital synthesizer that showcases impressive skills in reviving vintage analog synths at a remarkable value.