Description
Martinic Retro Pack:
Take a trip down memory lane with the Martinic Retro Pack! This vintage plugin bundle offers authentic sounds from the 70s and 80s that will transport you back in time. From classic keyboards to analog drum machines, this pack has it all. Revive the groovy vibes and add a retro touch to your music with the Martinic Retro Pack.
Get ready to travel back in time and experience the authentic vintage vibes of the past, all from the comfort of your own studio. The Retro Pack is here to transport you to a bygone era, where the music was raw, pure, and full of soul.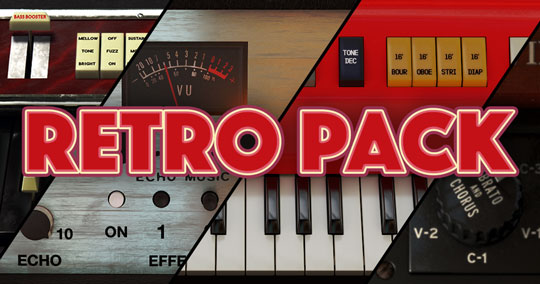 With this bundle of precisely modelled instruments and effects, you'll be able to recreate that classic, nostalgic mojo that's so hard to find these days. And the best part? You won't even need a time machine. Whether you're a producer, musician, or simply a lover of vintage sounds, the Retro Pack is your ticket to a world of sonic magic. So what are you waiting for? Let's go back in time and make some timeless music!
Unlock the magic of the past with the Retro Pack, a collection of meticulously crafted vintage instruments and effects. Dive deep into the sounds of the 1960s with the Elka Panther, an authentic emulation of the classic Italian combo organ that will transport you to a bygone era. Or take a step back in time with the Kee Bass, a monophonic string bass simulation from the same decade that will add a touch of nostalgic warmth to any track.
Experience the hauntingly beautiful tones of the Lem Echo Music, an exquisite recreation of the Italian tape delay effect that graced the recordings of some of the greatest artists of all time. And finally, add the signature vibrato effect of the most famous tonewheel organ ever made with Scanner Vibrato, bringing you even closer to that authentic vintage sound.
Whether you're a seasoned producer or just starting out, the Retro Pack offers a truly unique and authentic sound that will inspire you to create music that stands the test of time. So what are you waiting for? Step into the past and unleash the magic of the Retro Pack.
Sound quality

Ease of use

Interface

Presets

Value for money
Martinic Retro Pack Summary
This bundle of precisely modeled instruments and effects is the perfect tool for achieving that classic sound "in-the-box".